We truly appreciate all who attended, sponsored and supported the 2023 Woolly Farms Spring Fling! We couldn't do what we do without your generosity! A very special thank you to the following who are part of our Woolly Hall of Fame!
AIM Strategies | Douglas Production Group | Mammoth | Meri-Crete
NextGen Cattle Co. | Schwerdt Design Group Inc. | Vaerus Aviation | Watco
---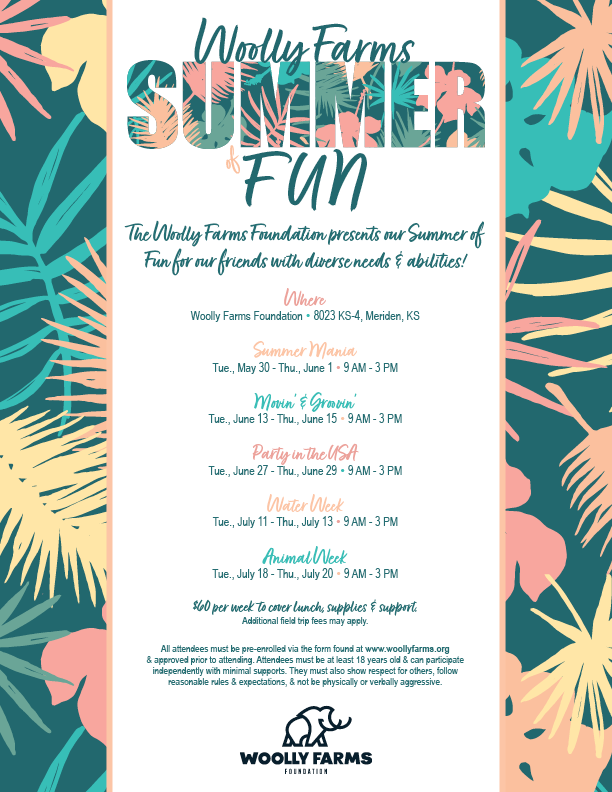 Join us for Woolly Farms Foundation's "Summer of Fun!"
Click here to sign-up to attend online.
See above flyer for all of the details. Please note that all attendees must be pre-enrolled via the forms below and approved prior to attending. Attendees must be at least 18 years old and can participate independently with minimal supports. They must also show respect for others, follow reasonable rules and expectations, and note be physically or verbally aggressive.
---
Weekly Program…
Every Tuesday, Wednesday & Thursday (unless otherwise stated)
9:00 AM to 3:00 PM
Upcoming 2023 Dates:
*May 9-11
*May 16-18

*Summer camps start May 30. See details above. Regular weekly programming will start back up on Sept. 5.
Our Weekly Program meet Tuesdays through Thursdays, 9 AM to 3 PM. There is a $15 daily fee to cover the costs. Lunch and snacks will be included. These gatherings include a variety of outings, as well as a curriculum and skills-based approach to help the members in learning and expanding their everyday skills and interactions. We focus on healthy living and focus on fitness-based activities.
Woolly Farms has moved to our newly renovated location next to the highway at 8023 KS-4 in Meriden, Kansas. Our weekly workshops are held at this location. Sonya Olson is Woolly's life coach and interim director. Sonya has had the privilege to spend this past couple of years with our group and has built many relationships. She is a talented and valued member to our team.
Our Weekly Program helps to build self-confidence and improve overall well-being by providing participants opportunities to explore their creativity through arts, strengthen communication skills, find placement in community-based jobs, and ultimately lead to greater independence.
What to expect:
The Weekly Workshops are packed with curriculum that allows participants to grow, focusing on:
• Daily Living
• Employability Skills
• Social Skills
• Healthy Lifestyle, Including Fitness-Based Activities
• Teamwork
• Sense of Responsibility
• Work Experience Opportunities
• Field Trips to Support the Above

Joining is easy! Click here pick the upcoming dates that you would like for your participant to join us. If you have not already, please complete the forms below and email them to [email protected]. If you have any questions or concerns, do not hesitate to contact Sonya at [email protected].